DollarBreak is reader-supported, when you sign up through links on this post, we may receive compensation. Disclosure.
The content is for informational purposes only. Conduct your own research and seek advice of a licensed financial advisor. Terms.
15 Easy Ways to Make Money
Participate in Online Surveys
---
Participating in online surveys is perhaps one of the easiest ways to make money.
Brands and businesses of all kinds crave your honest feedback to improve their products and services and ultimately increase their sales. That's why they're willing to pay you for sharing your opinion about various topics, products, or services.
Most online surveys you'll find would take a few minutes to complete and earn you on average up to $3 per survey.
However, how much you'll earn per survey depends on how complex the questionnaire is. For more complex surveys, such as paid medical surveys, you can even earn up to $250 for your participation.
Make sure to check out the list of 200+ platforms offering surveys for money.
Invest in Stocks
---
Investing in stocks is another effective way of generating passive income. When you invest in stocks, you actually own a certain share of company stock. Proportionally to your contribution, you'll profit when the company you've invested in raises in value.
While the actual return on your investment would vary depending on what stocks you buy, you can expect an average of 7.5% annual return.
The least risky decision is to invest in S&P 500 companies.
You can start by using popular investment apps like Acorns, Stash, M1 Finance, and Public App. What's good about these apps is that they allow you to start investing with as little as $5.
Become a Delivery Driver
---
Delivery gigs are potentially one of the best ways to make money if you own a car. All you have to do is drive to the customers' locations and deliver their online orders.
Although there are no pre-requisites for delivery gigs, you must have a clean criminal record and own a smartphone to use the delivery app.
Get Free Money with Sign-Up Bonuses
---
The easiest way to make money is possibly through claiming signup bonuses various apps and platforms are offering.
All you have to do is look for apps that provide signup bonuses, usually ranging from $1 to $5, which should take you about less than a minute.
A few suggestions for you to grab the signup bonus include:
Note that you may have to complete at least 1 survey to get the sign-up bonus from survey sites. With Acorns, you may need to make your initial deposit of at least $5.
Join GPT Sites
---
You can complete simple tasks on GPT (get paid to) sites to earn money.
Tasks GPT sites reward you for completing include:
Completing surveys and polls
Accepting offers
Watching videos and slideshows
Playing games
Shopping online
Browsing the web
Scanning products at supermarkets
Reading emails
While different platforms pay you different amounts for completing simple tasks, you can expect to earn up to $5 per task. Once you've hit the minimum withdrawal threshold, GPT sites let you redeem your earnings for gift cards or redeem your money via PayPal.
Pro tip: Sign up for multiple GPT sites to maximize your earning potential. Take simple tasks when you're feeling bored watching TV, waiting for your order at the restaurant, or commuting.
Invest in Personal Loans (Peer-to-Peer Lending)
---
A concept known as peer-to-peer lending is another way of investing. You can lend money to people and obtain a 5% net return annually through LendingClub.
The way LendingClub works is quite simple:
When you invest money, you create multiple notes for your investment portfolio that you can diversify across different personal loans
People apply for a loan
Your invested money goes to finance the loans people apply for
When the borrowers pay back the loan, you'll receive principal and interest every month
Participate in Gig Economy Jobs
---
The gig economy is evolving. But what are gig economy jobs anyway? Gigs are small jobs that you do for clients as an independent contractor.
Gig economy jobs cover a wide variety of areas, including:
| Job | Earning Potential | Where to Find a Job |
| --- | --- | --- |
| Dog walking | $10/hour per dog | Rover |
| Housekeeping | Up to $20/hour | Handy.com |
| Grocery shopping | Up to $20/hour | Instacart |
| Car washing | Up to $11/hour | Washos |
| Babysitting | Up to $15/hour | Washos |
Become an Instagram Influencer
---
"Can you make money on Instagram?" This is the question a lot of young people ask recently.
In fact, becoming an Instagram influencer is one of the entertaining and easy ways to make money.
As an Instagram influencer, you can earn money through sponsorship and promotional posts for brands. To reach the point where you can start partnering with brands, you need to follow multiple steps, such as:
Choosing a niche
Creating an aesthetic feed
Posting engaging content consistently
Putting the right hashtags
Engaging with your followers
Engaging with other accounts
Just like any other social media platform, gaining followers is not a one-night process. However, as long as you're authentic with your content, your account will grow organically.
Here's how much you can charge a business to place a post promoting their product or service:
| Your Audience Size | Earnings |
| --- | --- |
| Up to 10,000 followers | $88 /post |
| 10,000 to 100,000 followers | $200 /post |
| 100,000 to 1,000,000 followers | $670 /post |
| 1,000,000+ followers | $3,000+ /post |
Sell Stuff Online
---
You can sell literally anything online. By selling stuff online, you're not only easily getting cash, but you'll be able to declutter your home as well.
If you're wondering what you can sell online, here's the list that can give you an idea:
You can also start your dropshipping business and sell products for profit. What's good about dropshipping is that you don't have to buy an inventory in advance – you can only purchase goods when a customer pays for it.
Selling your photos is another easy way to make money online. By publishing your photography to stock image platforms, you'll be earning royalties each time someone buys your photo.
Here's the list of some of the best stock photo platforms and how much each photo can earn you:
Get Cashbacks
---
When you make a purchase with your linked cashback app, you'll simply get a predetermined percentage of the money you've spent back into your account.
Ibotta is one of the best cashback sites that offer cashback of up to 30% from 1,500 retailers, including:
Amazon
Target
Walmart
Walgreens
Petco
Sephora
Domino's Pizza
Starbucks
Be aware that not all products may be qualifying for cashback.
Test Websites & Apps
---
Web and app developers need to test their websites and apps before rolling them out to the public. And it's an easy way to make money.
As a tester, you'd be required to test and review a website or an app and provide feedback to the developers. Simply visit each page of the site you're required to test and report any errors, non-functional buttons, inconsistent texts, and images, etc.
The same applies to testing apps. You'll need to download an app, play around with it, and report any bugs or errors to the developer.
Watch Movies
---
What can be easier than earning money while watching movies? There are, in fact multiple ways you can make money by watching movies, including:
Watching movie previews on InboxDollars – earn up to $200 per month
Watch movies and videos on Swagbucks – earn $0.01 for watching a 4-minute video
Watch movies with Nielsen installed on your TV – earn $50 a year
Get a job at a movie theater – earn up to $20 per hour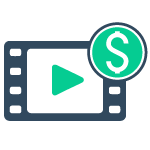 Become a Virtual Assistant (VA)
---
As a virtual assistant (VA), you'll have to assist an individual or a business online. You'll be assigned tasks similar to what an on-desk job assistant would have to complete.
Virtual assistant tasks may include:
Customer service
Answering emails
Managing appointments and calendars
Researching
Completing small digital marketing tasks
Managing social media platforms
Since becoming a virtual assistant may require some training, you can check out Horkey Handbook FullyBookedVA Course. This all-encompassing course teaches you everything you need to know, from choosing a niche to getting relevant clients.
To look for VA jobs, check out websites like Fancy Hands, FlexJobs, ZipRecruiter, Zirtual.
Become a Mystery Shopper
---
Mystery shopping refers to secret shopping where you will check the standards of service that a business offers as a regular customer.
Mystery shopping gigs are available in a wide variety of businesses, including:
Banks
Movie theaters
Retail stores
And any other service provider
As a mystery shopper, you'll simply have to visit the predetermined location and act like you're interested in getting their service. After you're done "shopping," you'll need to fill out a survey that clearly describes your experience. You might also be required to take a few photos or record audio while being at a location.
Shopkick, Market Force, and Secret Shopper are 3 of the best platforms where you can find mystery shopping gigs.
Rent Your Stuff
---
You can rent out anything you're not using. Whether it's a house/apartment, vehicle, clothes, or electronics, renting it out is the easiest way to earn passive income.
Let's take a look at the table below to see what can you rent out, how much it can earn you, and which platform to leverage:
Invest in Crypto
---
Since the value of cryptocurrency is going up, investing in crypto is becoming one of the most popular ways of making money.
Popular platforms allowing you to trade cryptocurrencies include Coinbase, and Rocket Dollar.